Home
About the MHC
Maimonides Puzzle Room
Torah HaRambam
Essays and Articles
Bet Knesset Or Mordechai
Sukkat David Programs
New! Audio Lectures on Maimonides
By Rabbi Labaton
New! Video Archive
Mini Shiurim with Rabbi Yamin Levy
Yad Vachesed
Changing the World
Stephen Isaiah Ades Library
Setton Family Hospitality Center
at the Grave of Maimonides
Harambam.org
About Tiberias
Photo Gallery
MHC Committee Members
Contact Us
Takhkemoni Lunch Program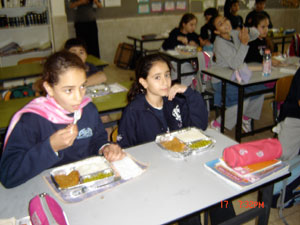 The Takhkemoni School in Tiberias serves over 600 children. This is a "religious" public school and is funded exclusively by the government of Israel. This is considered one of the poorest schools in the entire state of Israel and yet the children are all happy and like all kids they love to learn and sing and play. Unfortunately these children do not share the same opportunities other children have. Many of these kids come from single parent homes or homes where parents are unemployed. The funding of this school is limited and therefore does not provide for teacher's aids, assistance for children with special needs, music lessons or even a sophisticated computer lab. And yet the Principal Haim Shaked, one of the top educators in Israel makes due with what he has and is doing an unbelievable job.

The Maimonides Heritage Center has taken upon itself the responsibility to make sure that every child at the Takhkemoni School receives a hot healthy meal every day. In principal each child is supposed to pay 8NIS per day which is abut $2 a day for the meal. 50% of the children cannot afford that cost, another 25% might be able to afford it but doesn't get around to bringing in the money. We at the Maimonides Heritage Center believe that every child should have a wholesome hot meal every day. In conjunction with the Municipality of Tiberias and the efforts of Haim Shaked we are completeing our second year of providing a hot meal every day to every child at Takhkemoni.

Join us in this effort. Every Dollar helps.
$2.00 Feeds a child today!


Takhkemoni children learn about HaRambam, Maimonides